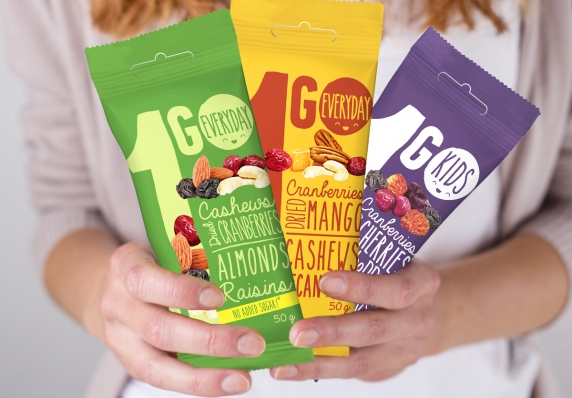 1GO
1GO (ONE GO) is a colourful mix of nuts, dried fruits, berries and seeds, ideal for boosting your energy levels and satiating the hunger.
Nutritionists recommend having two snacks in between basic daily meals. 1GO meets the calorie intake recommended by nutritionists and can be a great choice for lunch, dinner or simply when you are hungry.
1GO is a balanced and more valuable formulation than most other snacks. These snacks are convenient for taking with you wherever you are – both in the city and in nature. Packaging fits perfectly into a handbag, car box, computer backpack, satchel, or sports or picnic bag.
These snacks are appreciated by active consumers who like to travel, who know and care for their diets and look for healthier alternatives.
Range
The range includes 4 different mixes:
1GO dried fruits and nuts mix.
1GO dried fruit and seed mix.
1GO dried berries mix.
1GO mix of nuts, seeds and dried dates.
PRODUCT WEIGHT
Weight of all packages – 50 g. Just take a handful and eat!