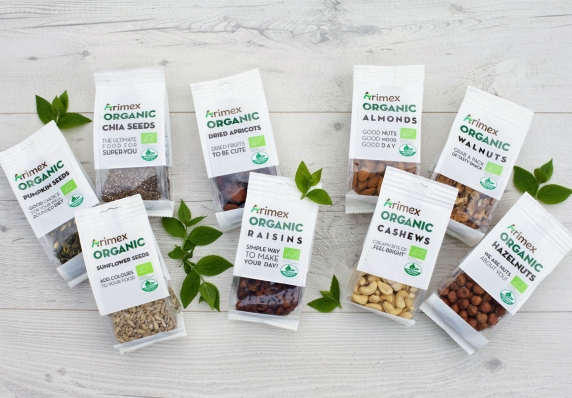 ARIMEX ORGANIC
In 2016, the company was granted a formal authorisation to pack, import and export organic goods.
We have created an eco-friendly ARIMEX ORGANIC product line, which has already become a favourite with health-conscious consumers. In 2018, sales of ORGANIC goods reached over €1 million. We are confident we will double these sales in 2019.
ARIMEX ORGANIC products are special natural wonders with valuable nutritional properties.
Those who seek the greatest benefits choose organic products!
RANGE
Arimex Organic range includes:
organic nuts: cashews, almonds, hazelnuts, walnuts.
organic dried fruits: apricots, raisins, dates.
organic seeds: pumpkin, sunflower, flax, chia.
PRODUCT WEIGHT
The products are packed in attractive packages of different weights (150 g, 200 g, 300 g, 400 g).