Arimex
ARIMEX is our most popular brand featuring the largest range of over 200 SKUs.
All ARIMEX products are packaged in transparent packages that makes it easy to check the quality and composition of the products you buy.
Since we import our products from 32 countries around the world, the range of this brand includes a wide variety of nuts (25 types), dried fruits (20 types), edible berries (7 types) and their various mixes (over 40 different compositions).
You can find the products of this brand in Lithuania, Latvia, Estonia, Finland, Sweden, Denmark and other countries.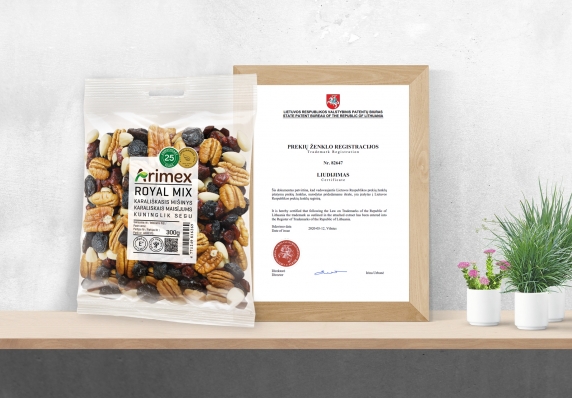 WE ARE PROUD
We are proud that the Royal mix was selected the most popular product in its category in Lithuania for a 2 years in a row. The winners were selected by main retailers according to consumer choice – the biggest sales in 2019.
Karališkasis Mišinys with its exceptional quality and composition has been the pride of ARIMEX for 11 years. Only high-quality, carefully selected nuts and dried berries are used in the mix: curry nuts, shelled almonds, jumbo raisins and dried cranberries. It is a great snack rich in vitamin E. Royal mix is a favourite and highly appreciated by consumers for its balanced taste, stable composition and guaranteed quality.
Starting 12.05.2020 "Karališkas Mišinys" is registered as trade mark in Lithuanian teritory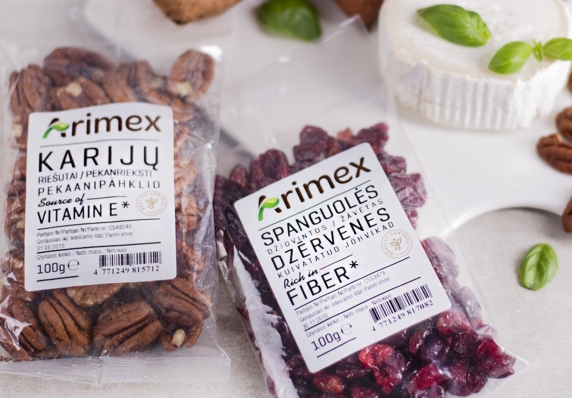 INFORMATION ON THE PACKAGING
We aim to inform consumers about the benefits of nuts and dried fruits to the body. Therefore, we indicate the product-specific uses for the body of vitamins, minerals, nutrients on the labels. We publish this information based on our data from studies.
We also label the packaging of our products with the quality control badge, which means that:
we 100% check every batch of incoming goods.
100% of pre-packed products are checked with a metal detector.
we perform pest control processes for each incoming party
we have allergen control, cleanliness and other processes in place as we strive to ensure maximum product safety.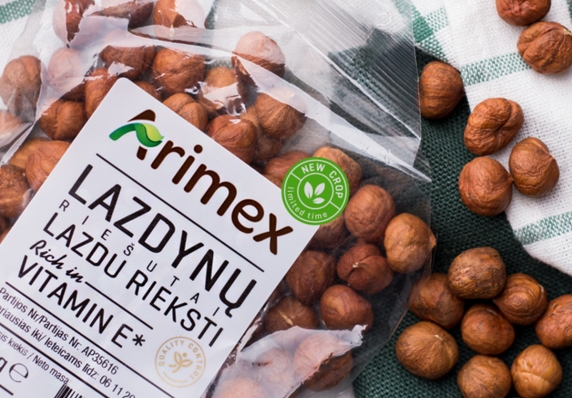 NEW HARVEST
This badge, with leaves symbolising freshly picked nuts and fruits, helps draw the attention of consumers that the pack contains pre-packaged nuts and dried fruits from the new harvest.
New harvest products are the most delicious and labelled with this badge for a limited time.
PRODUCT WEIGHT
Packages of various weights (from 50 g to 1 kg) meet different consumer needs. Consumers like this brand because they can find products that suit every taste.